One of my clients has given me the privilege and responsibility of creating a VSL script for their online marketing. (VSL means video sales letter.)
It's a fascinating process.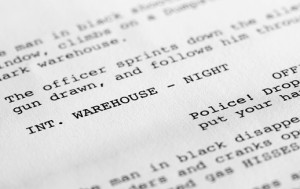 The client has a disdain for marketing language and knows his product appeals to "brainiacs" such as he is. That makes it a bit difficult to create a VSL script that makes the client happy with the "voice" and "tone" of the message AND satisfy his need for results.
Case in point…
We're in the midst of running a new campaign to get subscribers. We're using Facebook ads to send people to a squeeze page. The client wants a video on the squeeze page. (Good idea, btw. Video is currently testing at significantly higher conversion rates than plain old written pages.)
I crafted a short, punchy VSL script with the goal of getting the sign up.
Sent it to the client so he could do the audio and send it back to me so I could create the video.
The video is a simple PowerPoint style with white background, text and a couple images interspersed. The voice over just reads the words.
Instead of that short, punchy voice over I was expecting I got a NINE MINUTE audio going into detail about the product and quite possibly turning off the viewer before he even has a chance to find out more about who we are and how we can help them.
His VSL script COULD be used on the sales page. It actually has some good content, makes some valid arguments for purchasing his product, BUT it's completely in the wrong place in the sales cycle.
Because it's traffic from Facebook ads, chances are the visitor doesn't KNOW him enough to TRUST him yet.
Why Use a VSL Script on Your Squeeze Page?
The purpose of the squeeze page is to build that trust. Let the reader get to know him. Get them to take a quiz which will prove he knows what he's talking about.
THEN start the process of selling.
We've been back and forth several times now. I think the client is beginning to see the light. If we can't get people to sign up and see how awesome his stuff is, they'll never buy it.
But you can use a VSL script earlier in the process. If you do it correctly.