The Anatomy of an Effective Sales Funnel
Part 1: Traffic
If you're doing business on the Internet, you've most likely run across the term, "Sales Funnel." It sounds big and scary, but there are only a few critical components to a sales funnel that you need to focus on.
Having said that, a sales funnel CAN be as complicated as you want to make it. But, let's start with the basics…
A sales funnel is simply a way to take prospective customers through a process of getting to know you and your business and offering them the opportunity to buy what you sell.
If you look at a picture of a funnel, it's wide at the top and narrow at the bottom. That's so you can pour a large volume into the opening and have it "funnel" down to a small opening at the bottom.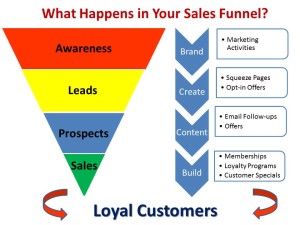 On the Internet, a sales funnel usually starts with a way to get traffic to a special type of page called a "squeeze" page. Some people call it an "optin" page, while others will use the term "lead capture" page.
No matter what the term, the objective is to get a person to leave their email address so you can connect with them in the future.
Before we talk about the actual optin process, let's start with traffic.
Traffic:
There are basically two ways to get traffic to your website optin page:
Organic traffic: where people search for a keyword that is related to your business and find your page.
Paid traffic: using any number of online advertising platforms – such as Google AdWords or Facebook Ads – to direct people to your page.
Both of these methods are effective – and both have their pros and cons. Organic search takes time. Getting to page one on a search engine is difficult as there are only 10 results on the first page. You are competing with everyone in your niche over those 10 places.
Paid traffic can cost you money if you're not constantly monitoring your ads for effectiveness. But once you've dialled in an advertising campaign, you have a predictable process to drive prospects to your optin page. Tracking and testing are critical to success with paid traffic.
Next time, we'll talk about the lead capture process – the most important part of your sales funnel. After all, if you don't have an audience, it doesn't matter how good you are at selling!